KAI Sushi & Sake Bar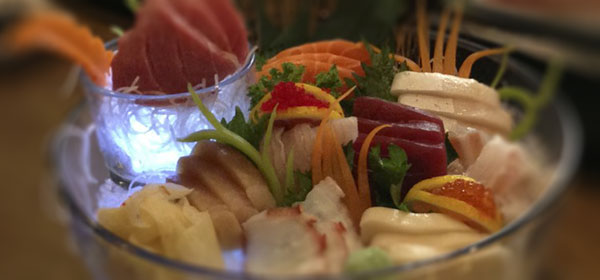 NEWS UPDATE FOR COVID-19:
As of March 17, 2020, Gov. Roy Cooper has ordered all restaurants and bars to close for dine-in customers while take-out and delivery options may still continue. KAI Sushi & Sake Bar will operate entirely on take-out service until further notice. During this time, we believe that it is our responsibility to prioritize the health of our customers and employees by providing a healthy and safe service and temporarily limiting our business hours to:
Monday: CLOSED
Tuesday – Thursday: 4:00pm – 8:30pm
Friday & Saturday: 12:00pm – 2:00pm & 5:00pm – 9:00pm
Sunday: 4:00pm – 8:00pm
Our menu will be limited to sushi, salads, miso, and edamame. We will keep everyone updated through our website of any future changes and plans. We deeply wish good health for all and we are looking forward to seeing our customers dine-in again soon! 
---
Welcome to KAI Sushi & Sake Bar, a truly unique combination of classic Japanese, Chinese, & Korean prepared dishes by Chef & Owner James Chung and Executive Chef Peter Kim
Together they have combined 50 years of experience weaving classic, traditional Asian dishes with new and exciting sushi, sashimi, and chirashi creations!
---
New Special Rolls:
Diablo   10
Panko fried with spicy crab, pimento cheese, pickled jalapeno, and avocado
*Dark Knight (black rice)   12                                                               Spicy tuna, shrimp tempura & topped with albacore, avocado & tataki sauce
*Angry Tuna   12                                                                                White tuna, carrots, avocado topped with spicy crab and tuna mix, jalapeno, green onion & tataki sauce
*Raleigh Pop (no rice)   12                                                                 Tuna, spicy tuna, avocado, crab, white fish rolled in seaweed & flash fried, with wasabi ponzu
Darth Vader  10
Black rice with Spicy Tuna and avocado topped with spicy crab, avocado, wasabi tobiko, and "O" sauce
---
ROLL SPECIALS:
3 ROLLS: $26.99          5 ROLLS: $39.99
---
Check Out Our Review:
http://www.newsobserver.com/2013/11/14/3367732/trust-in-the-sushi-chef-at-kai.html
---

Our Menu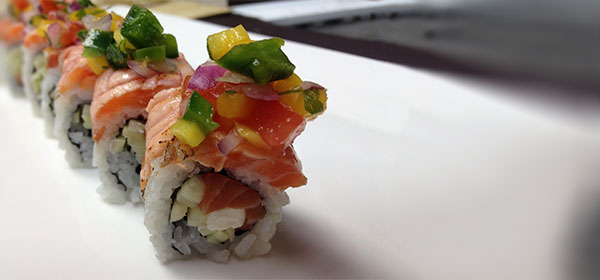 New Specials:
 *Aloha Bowl                   Lunch:  12     Dinner:  16                               – Bowl consists of albacore, avocado, salad greens, caramelized onion, black or white rice, house  dressing, garlic ponzu, and masago
*Spicy Salmon Bowl      Lunch:  12     Dinner:  16                             *Spicy Tuna Bowl          Lunch:  12     Dinner:  16
 – Bowl consists of Spicy Salmon or Tuna, salad greens, cucumber, and seaweed on top of black or  white rice
Spicy Chicken Bowl      Lunch:  10      Dinner:  14                                  – Bowl consists of spicy chicken, salad greens, poached egg, carrots, and house dressing
*알밥 (fish roe bowl):      Lunch:  18       Dinner:  18                              – Bowl consists of masago, tobiko, ikura, seaweed, eel, cooked vegetables, and eel sauce
Hibachi Platter: (LUNCH ONLY)
Chicken  9
Beef  10
Shrimp  10
-Served with miso, salad, vegetables, chilled spicy edamame, and fried or steamed rice
Sushi Bar Appetizer:
*Jalapeño Amberjack  12
– Thin slices of Amberjack (Japan) with sliced jalapeno, fresh wasabi, and mustard ponzu sauce